NARS Larger Than Life Lipgloss in Paris Follies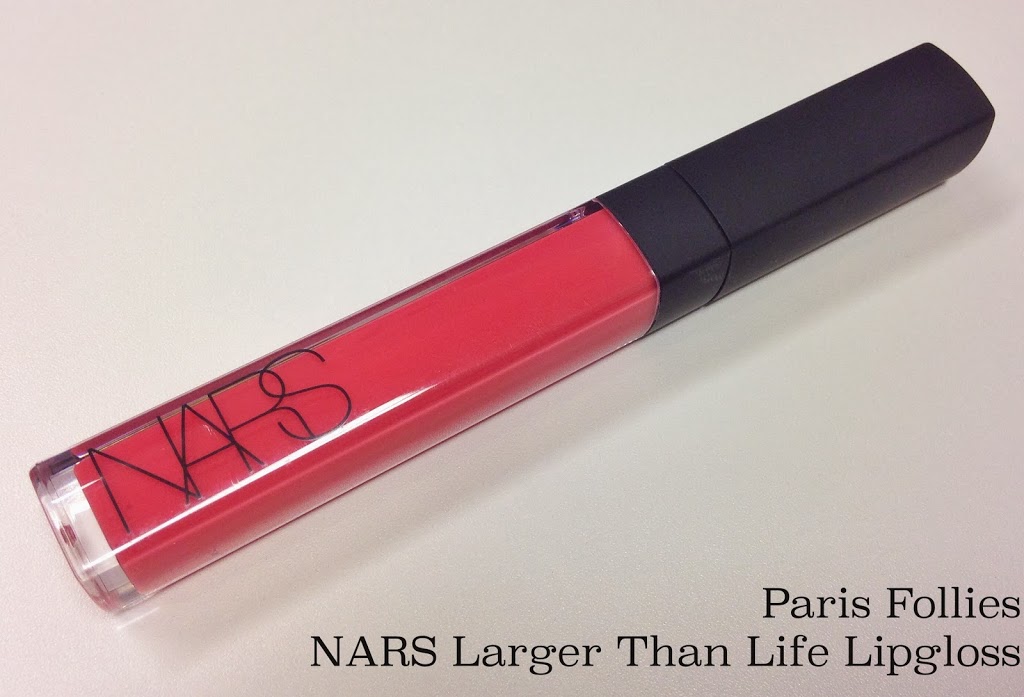 Hi all!
I'm actually back in Singapore already for about close to 2 weeks already!
Went to the Shiseido Sale last week and left with stuff obviously duh.
I couldn't possibly leave empty handed lol!
So... here's one of the things I picked up at the sale and I've been loving it these few days hence this random blog post.
Now I don't own that many NARS products to begin with but I do have a few of these Larger Than Life Lipglosses which clearly needs to be given more love from me.
This lipgloss - Paris Follies - was completely new to me.
The ones I own came from the Andy Warhol Collection from last year and while I'm usually quite up to date with new launches because that's my hobby to be honest, to be updated with the new and latest makeup products, I hadn't heard of this product before to be honest.
But on a whim I decided to pick this lipgloss up because I liked how wearable it looked in the tube and when I swatched it at the sale. Wasn't intending to pick up any lip products because God knows how many new ones I have lying at home!
And.. home it came with me and I absolutely LOVE IT!
The shade is a wearable colour for any occasion of the day - I would describe it as a wearable coral colour because I wore it everyday sans lipstick, just my lip balm below it and my lips looked so natural looking.
I didn't like how drying it felt after awhile on my lips but that cannot be helped because I'm just cursed with dry and chapped lips always T.T
However, it didn't dry out my lips as fast as other lip products do so.... extra points perhaps? LOL
I like the tiny applicator that comes with these NARS lipglosses simply because it allows me to be more precise in my application.
Usually those that come with the doe foot applicator tends to be too big for my lips (I have small surface area la D:).
It's pretty unique in my opinion such small applicators - usually companies tend to just put in the doe foot ones - but I've read reviews on how others hated it because it was too small and they needed to stick it into the tube a few more times to cover the entire lip area.
It applies opaque when swatched on my hand but on the lips, it looks more like a clear gloss which was what I liked about it.
The lipgloss didn't settle into the lines of my lips and was free of that sticky feeling that most lipglosses have so that was why this product has been in my bag for the past week (yes, every single day! that's how much I liked it).
Pardon me for the crappy lip swatch, I wasn't able to capture the true colour on the lips but you can see it here from
Temptalia
.
She's like my shifu and go to website for all things make-up and I absolutely love her website! LOL.
Maybe it's time for me to go dig out my Donghae (the DSLR) and explore options with it further, shan't rely on my iPhone 5 too often hahaha.
Anyhow, gonna end this entry randomly!
Hope to catch up with my Europe posts asap but I've been very busy meeting up with tons of people because I'll be heading off to China soon after the new year and it's also Christmas season so tons of shopping to do.
Till then, annyeong~