Korea Travelogue: Day 7 Busan & Spaland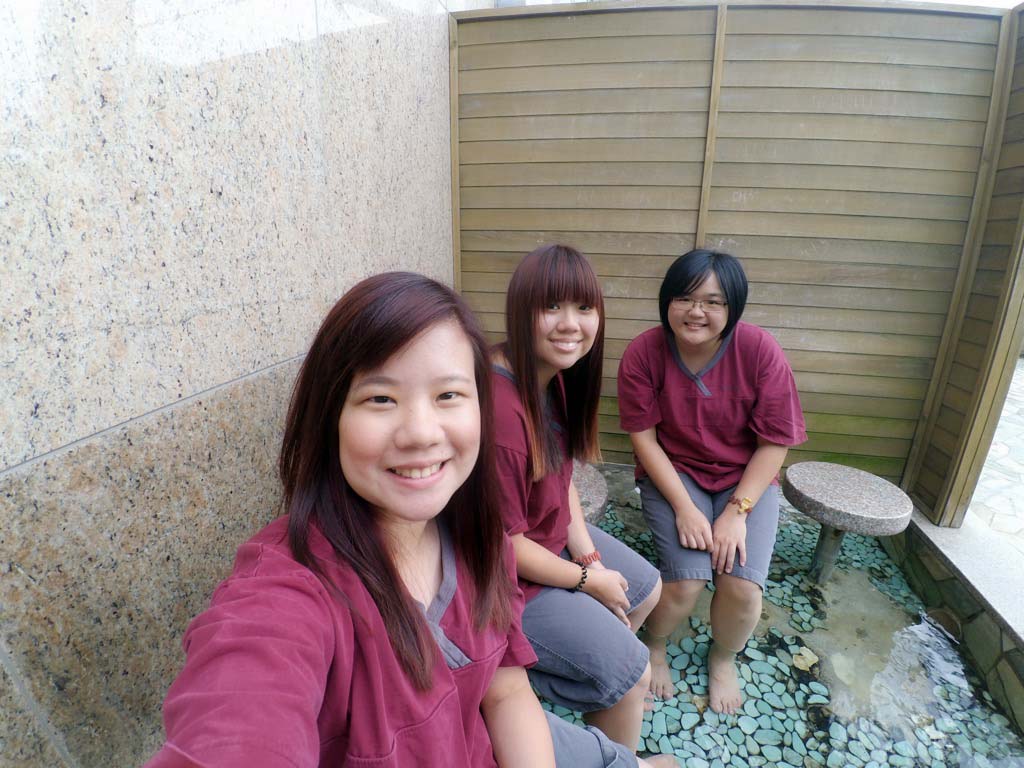 Headed off to Busan from Gwangju very early in the morning, picking up some toast from Isaac Toast at U-Square for breakfast because we had a very long journey to Busan.
As usual, we bought our bus tickets the day before because we're kiasu like this HAHAHAH! Boarded the bus and we arrived in Busan's Nopo bus terminal in about 3.5 hours.
Took the metro down to Busan Station which was an additional 40 minute journey where our AirBnb was located. I will show the AirBnb that we stayed in later on in this entry. Dropped off our luggage and then set off immediately for lunch at 쌍둥이 돼지국밥 (Ssangdongi Dwaeji Gukbap).
Address
부산시 남구 대연1동 877-1 번지
It's about 3 minutes by foot from Exit 3 of Daeyeon station. You may refer to the map above for more information :D
We decided to come here because we haven't tried any guk bap (guk bap is basically soup with rice) before and this restaurant was one of the recommended places or 맛집 (mat jib) as the locals would say but personally, I was quite disappointed by this dish because the taste was very weird to me. I was expecting the soup to taste a little like normal pork based soups but the smell of pork was so overwhelming I couldn't stomach down more than a few mouthfuls of the guk bap. Each bowl costs KRW6,000.
And we realised that most of the restaurant's patrons were locals and we were the only group of foreigners so the conclusion was dwaeji gukbap is an acquired taste lol and you may not like it if you're not used to it.
After that we took the metro to Centum City because we wanted to chill at Spa Land, a more atas (means high class in Singlish) jjimjilbang located in Shinsaegae. Had to walk off our lunch first before going to the jjimjilbang and steam some fats off hahahahaha so we walked around the mall for awhile. Entry is KRW15,000/pax on weekdays and KRW18,000/pax on weekends.
What I liked about Spa Land is their outdoor foot bath. There are several areas with various temperatures for you and your friends to sit around and immerse your feet into the water bath.
Even their sauna rooms are so nicely decorated - I believe this was a cold room though.
With the GZBs in one of the steam rooms
There are a ton of facilities inside Spa Land, ranging from facials to snacks and even a gaming area for patrons to while away their time. I did take some videos inside Spa Land so check out the vlog before to see how we spent our 2 hours inside:
After leaving Spa Land, we took the metro to Seomyeon station for dinner and some light shopping. Previously I've blogged about visiting Seomyeon for cat acfe and food, you can check it out here.
We had Bonjuk for dinner and some street food afterwards before going back to our AirBnb for the night.
Here's a look at our AirBnb that we booked, somehow I cannot find the AirBnB link anymore but it's called Mong's House and the AirBnb is located very near to Busan Station.
The AirBnb is very well equipped with the usual facilities like washing machine, cooking area etc and this is a loft apartment so there were 2 mattresses at the loft area. Space was adequate for 3 huge luggage to be sprawled open on the floor. The only thing I found very bad was the condition of the toilet. It was very poorly maintained and hot water tended to run out very quickly so let's just say we had to take very quick showers lol.
Picked up 3 of the The Face Shop x Kakao Talk Character Masks that night to try because we were very intrigued by the sheet masks with character faces on them.
HAHAHAHA ok they were cute! But it didn't make my skin feel more supple or anything so yeah... probably some marketing gimmick really D:
Ok and that marks the first night in Busan for us. Gonna visit Taejongdae the next day so check back for the upcoming entry then :)